Superbooth 2023: Another Fantastic Journey
The Decksaver team has just returned from another fantastic trip to Superbooth in Berlin, and the experience was once again incredibly memorable.
This annual show, with its rich 20-year history, originated as a gathering of like-minded individuals sharing their passion for hardware and musical instruments as part of the Musikmesse in Frankfurt. However, it has since blossomed into its own independent event, carefully curated by the visionary Herr Schneider. In 2015, he transformed Superbooth into its own distinctive trade fair, leading to its relocation to the vibrant city of Berlin – one of our favourite cities.
The first standalone Superbooth took place in 2016 at Funkhaus Berlin, where 96 exhibitors congregated together to create an atmosphere of unparalleled connection and celebration. These initial three days left a lasting imprint on everyone who attended, fostering extraordinary memories.
As a testament to its triumph, Superbooth underwent a venue change in 2017, finding its current home at FEZ-Berlin and solidifying its position as an indispensable fixture on the music gear calendar. (If you haven't been to FEZ; it's location in the south eastern woodlands of the city are incredibly picturesque and relaxed and very much reflect the show's outlook).
The Decksaver team has been omni-present at the show since it's incarnation, working closely with our distributor in Germany, Pro Audio-Technik, to showcase the brand and our latest covers (more of that below).
This year's edition was nothing short of spectacular, featuring an array of exciting announcements that set music enthusiasts abuzz with anticipation.
Here's a quick tour of some of the top gear we managed to get our hands on over the few days we were there.
One of the highlights of the new gear on show was the unveiling of Teenage Engineering's TP-7 field recorder. This compact and versatile device (that mirrors the styling of the TX-6) caught the attention with its unique approach to capturing sound. The TP-7 combines a powerful recording engine with an intuitive interface, allowing users to create content instantaneously. Its sleek design and innovative features made it a standout at the event. The Teenage Engineering field system has also been added to with the launch of the CM-15 microphone. This small, but feature-packed device carries a USB-C audio interface, with built-in pre-amp and even a 48v phantom powered mini XLR. Just when you think you've seen it all; Teenage Engineering continues to deliver gorgeous products.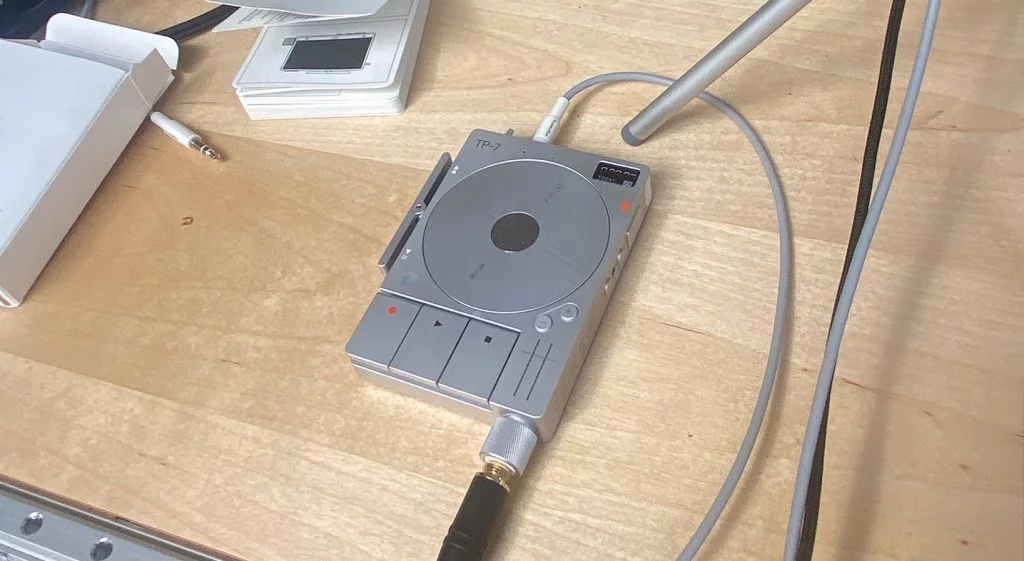 Synth legends Korg presented their Microkorg Crystal Edition, which definitely captured the attention of attendees. The Microkorg is known for its iconic sound and compact size, and the Crystal Edition brought a visually striking twist to this beloved synthesizer. With its transparent housing and illuminated controls, this latest Microkorg was a true feast for the eyes, while retaining the renowned sound capabilities that have made it a staple in many music productions. We've tested our current Decksaver cover and confirm that it also fits this new keyboard.
UDO devices are a firm favourite with Decksaver users and the latest machine in the line up – the Super Gemini synthesizer – made a significant impact at the event. This dual-voice analogue synthesizer showcased UDO's commitment to delivering exceptional sound quality and innovative features. The SG offers a rich sonic palette, blending classic and modern synthesis techniques. It boasts a versatile architecture that allowed users to craft complex sounds with ease. With its expressive capabilities and detailed sound shaping options, the Super Gemini provided musicians and producers with an extraordinary tool for creating evolving textures, lush pads, and powerful basslines. It's bound to fly out of stores when it becomes available.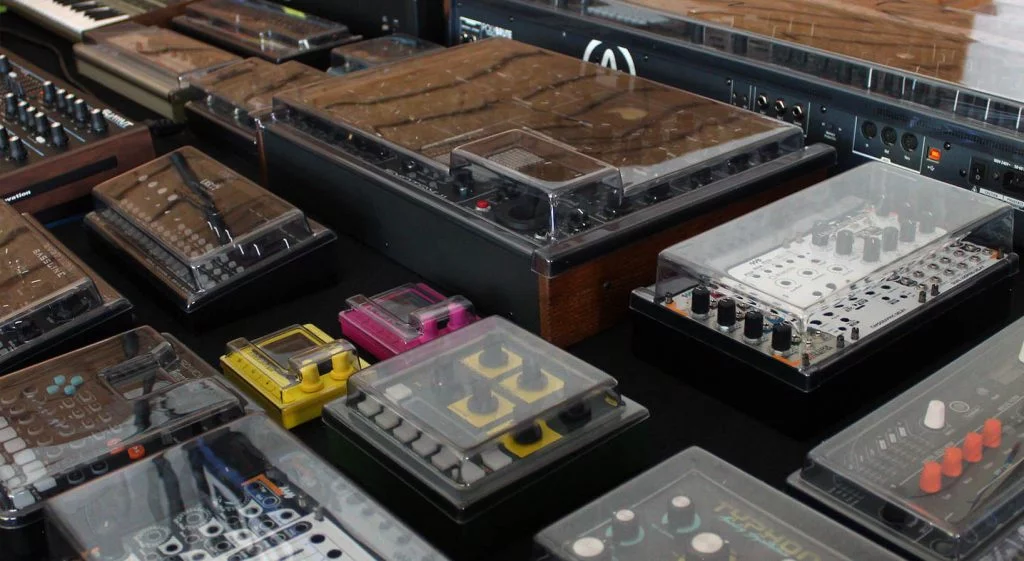 The latest addition to the Erica Synths range was also showcased at Superbooth. The Steam Pipe module will be sure to captivate synth enthusiasts with its distinctive sound and approach. The Steam Pipe introduces tube-driven saturation and distortion to modular setups, adding warmth and character to audio signals. With a variety of controls and parameters, users can sculpt sounds with harmonics, overdrive, and a big slab of vintage flavour. We had great fun testing this one out!
We love our Elektron machines and judging by the crowds at the booth, Elektron's Analog Heat +FX unit will be another top seller (it certainly lived up to its name too). This versatile effects processor and sound enhancer provides a wide range of analogue distortion, filtering, and EQ options for users. Musicians and producers can add warmth, grit, and character to their sounds, enriching their compositions with texture and depth. Whether used as a standalone device or integrated into an existing setup, the Heat +FX opens up new creative possibilities and detailed sonic sculpting.
Polyend may only have a small product range, but what they have really packs a punch. At this show, the brand presented their Mini Tracker; a compact and portable music production and sequencing device. Combining the functionality of a classic tracker-style sequencer with modern features and a sleek design, the Mini tracker provides an intuitive and hands-on approach to music creation. Musicians can sequence samples, create patterns, and apply various effects in real time. It's compact size and comprehensive functionality makes it a versatile tool for both studio productions and live performances.
We were also fortunate enough to explore Sonicware's cutting-edge gear, particularly their boundary-pushing sampler, the Texture Lab, which is sure to captivate producers around the globe. The unit follows the same form as the Liven and so our Decksaver for this new unit should also fit.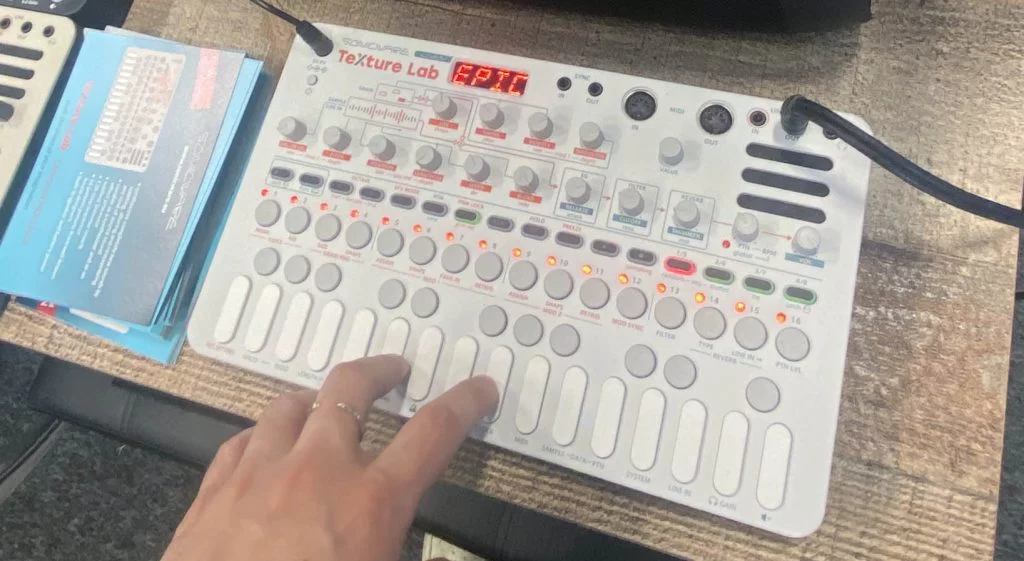 Of course, we couldn't resist showcasing our own newest additions. We proudly displayed the latest covers from our upcoming Spring 2023 collection, designed to protect gear such as the Novation Summit & Launchkey 37, Sonicware SmplTrek, Arturia MiniFreak, SSL 12, 4MS Pod 48x and 64x, 1010 nanobox, and AKAI MPK Miniplay MK3. These new covers sat alongside some of our classic producer items, including the Erica Synths Syntrx II, Moog Subsequent 37, Strymon pedals, Arturia MicroFreak and Teenage Engineering OP-Z.
Lastly, we would like to express our heartfelt gratitude to everyone who visited our booth at Superbooth 2023. Your presence made this event even more special and we hope to have the pleasure of seeing you again in 2024. If you're into synths and music tech, this show is an absolute must!
Join Team Decksaver!
Get 10% off your first order and stay up to date with the latest cover releases, news, hints and tips from Decksaver.